Description
The Premium Twin-Air Sizer® II digitally and accurately inflates all latex balloons.
NO OVERHEATING! It can run nonstop for over 300 hours!
Timer rolls from 9.9 down to zero without going backwards.
No re calibration needed!
Manual inflation mode when timer is set to 0.0 seconds.
Comes with set of nozzles for different shapes and sizes of balloons. (Nozzles can also be purchased separately)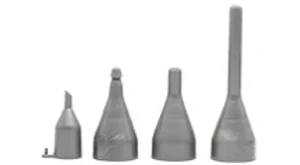 The Twin-Air Sizer® II Includes:
2 inflation outlets
1 carry bag
1 foot pedal
2 nozzles for 160 balloons
2 nozzles for 260 balloons
2 nozzles for 5" balloons
1 power cord

There is a push-button digital display screen so that you can adjust the timer to seconds and tenths of seconds for accurate sizing. When inflating larger balloons, you can change the seconds counter by pressing the deduct button for approximately three seconds.

This will remove the decimal and changes the counter to zero and you can increase the inflation time to seconds up to 90 seconds. Simply repeat the process to change it back to counting seconds and tenths of seconds.

Includes a built-in counter, to ensure you never loose count of the number of balloons inflated. If one pops, simply press the deduct button to reduce the number by one.

Quieter than most other digital inflators.

Functions:


Digital timer for sizing (seconds and tenths)
Includes a balloon counter to track how many you have inflated
Automatically inflates all sizes of non-round latex balloons

Recommended decor:


Balloon deliveries, bouquets, and centerpieces
Balloon canopies
Balloon retail sales
Air-filled balloon arches, columns, and garlands
Air-filled balloon sculptures
Foil balloon sculptures

Recommended balloons and sizes:
Non-round latex: 160, 260, 321, 350, 360, 646, 660
Can also inflate double stuffed 160 and 260
Round latex: 5″, 9″, 11″, 14″, 16″, 18″, 24″, 3′
Can also inflate double stuffed 5″ latex
Payment & Security
Your payment information is processed securely. We do not store credit card details nor have access to your credit card information.